The Circle: Bonds form lasting legacy at A-State
Dr. Herman Stickland's path to success would have taken a different route had it not been for the late Dr. Calvin Smith. 
"Calvin Smith was our Jackie Robinson," Strickland said. "Some of the things he had to go through, I didn't have to go through, because he was the first, and I was the second."
Four pioneer African-American instructors and their families broke the racial barrier at Arkansas State University in the 1970s. Isolated from the other campus residents, these families created a bond like no other as they overcame discrimination in both their professional and personal lives.
"A circle doesn't have any breaks in it. They became a circle, a symbol of the bond that they built as they had to rely on each other," said C.C. Smith, son of the late Dr. Calvin Smith.
Their four homes, located on the university's East College Circle and West College Circle, became known as The Circle.
Calvin Smith
Calvin Smith, along with his wife and son, migrated from Mariana to Jonesboro in 1970 where Smith would become the first black faculty member at Arkansas State University, and his family the inaugural members of what would later become known as The Circle.
Smith's family was the backbone of his journey. His son, Charlie C. Smith – better known as Coach C.C. at Jonesboro High School – lived in The Circle until he was 6. An America in the midst of the Civil Rights Movement was still riddled with racism and acts of prejudice. Coach C.C. recalls his father telling stories of troubled work days and receiving threatening calls in the middle of the night from people hoping to ward off the family from the campus. On multiple occasions, Smith was mistaken as a custodian and was also denied the right to cash his paychecks, because bank tellers found it hard to believe he was a college instructor. 
In spite of this, the children never had to face these concerns firsthand as their parents kept them shielded from the conflict they frequently encountered. As an only child, C.C. created strong relationships with the children of the other Circle instructors. 
"We often depended on one another as kids and learned to survive," C.C. said. "Our parents went through all of that to ensure we had opportunities and didn't experience what they experienced." 
Calvin Smith went on to receive his doctorate degree from The University of Arkansas in Fayetteville.
Herman Strickland
Herman Strickland, accompanied by his wife, Maxcine, two daughters and two sons, relocated from Blytheville to Jonesboro in 1972. Strickland became the second black faculty member at Arkansas State University. He and his family also moved into a small university-owned home in The Circle. Having already taught as one of the first black teachers in the newly integrated Blytheville School District since 1966, Strickland was very familiar with racial injustice within the school system and was prepared to tackle issues at ASU head on. He credits Smith for ironing out many of the racial affairs prior to the arrival of the other three Circle families, allowing for a smooth transition. Strickland served as an associate professor of teacher education and later the dean of University College. Maxcine Strickland studied at the university while the family was living in The Circle, and later became an elementary teacher. Strickland recalled being unaccepted by not only his university peers, but also by the black community. He assumed the attitude behind this was, "Why bring these guys in? There were many people in the community who could have been put up for positions. We weren't white, but we were living in a white community." 
Strickland valued the bond that formed in the midst of this adversity. 
"The conditions caused us to have to support one another. We all had similar concerns, similar problems, and common goals. We were not jealous of one another," he said. "We all wanted each person to succeed and rise to the top. We were on an island, isolated." 
Strickland went on to receive his doctorate from Ball State University in Muncie, Ind.
Wilbert Gaines 
Wilbert Gaines made The Circle a trio when he arrived in 1972 with his wife and three daughters. The family migrated from Marion, where Gaines was regarded as "the godfather of the Marion basketball program." 
He instituted the program at Phoenix High School, which was then Marion's high school for black students. After 10 years coaching there, Gaines led the integration of the basketball program at Marion High School, where he coached for an additional two years. 
After joining The Circle at ASU, Gaines spent the bulk of his days teaching, writing, publishing and doing service work. He sponsored the university's Kappa Alpha Psi fraternity, while also being an adviser for physical education majors and serving as the district coordinator for a body of Arkansas schools. His wife, the late Dr. Herschel Gaines, was an assistant principal at Jonesboro High School for 15 years until her retirement in 1994.
Gaines advocated for female representation in the coaching industry and held clinics across multiple sports for the benefit of female athletes and coaches.
Gaines commends ASU for its commitment to diversity and inclusion.
"ASU was exemplary in regards to diversity in education," he said. "They created a strong model for other universities to follow." 
Gaines went on to receive his doctorate from Ball State University as well.
Mossie Richmond
The lone member to enter having already earned his doctorate degree, Dr. Mossie Richmond was the concluding piece to the family that had become The Circle. In 1974, he, his wife, Velmar Richmond, and two daughters relocated from Wynne to Jonesboro. Richmond met his wife at Philander Smith College where he received his undergraduate degree, his first of multiple degrees. It was Richmond who pushed the other three instructors to obtain their doctorate degrees. Both he and his wife held a plethora of roles on the ASU campus. Richmond served as the vice president of student affairs, and later the university president. Over about a 10-year span, Velmar Richmond served as the vice president of the Board of Trustees, and later the president of the same board. She also served on the ASU Foundation Board among several other boards. 
While she described herself as blessed to have not faced adversity to the extremes she heard from others, Velmar remembers friends of hers being denied apartments simply because of their race. In spite of this she says her husband never succumbed to a racist attitude and credits him for introducing many things to ASU and being a driving force to beginning the University College.
"He was an unselfish person who never discriminated against anyone," Velmar Richmond said. "He was a motivator to a lot of people, a lot of students."
A Family Bond
Even with the negative zeitgeists that loomed over the '70s, The Circle was the birthplace of many great lifelong memories. The families would congregate on weekends to unwind, socialize and play games, Bid Whist being the preferred favorite card game. They spent joyous Sunday dinners and cheerful holidays together, alternating between the homes for gathering locations. Even the children grew to become siblings to one another, often carpooling to school and spending hours playing together. Isolated in their location on campus, the families were outsiders to every group, both the white and black communities. These misfortunes only brought them closer to one another. The term itself, "The Circle," was coined by the families, and they were proud of its origins. Dr. Strickland recalled an occasion when one of his daughters was asked at school what side of town she lived on, the Northside or Eastside, to which she proudly responded, "I live in The Circle." 
Their bond surpasses life itself. The late Dr. Richmond is buried in Wynne where he grew up and served as a deacon. The late Dr. Smith and late Mrs. Gaines are buried at Jonesboro Memorial Park, the same location Dr. Gaines and Dr. Strickland have already arranged to be laid to rest upon their deaths.
Legacy
"I want them to be remembered as being trailblazers," said C.C. Smith. "I want them to be remembered as men who were obedient to the will of God during hard times." 
The astounding legacy of The Circle is unmatched. Still being built upon to this day, it is the product of four highly educated men, their wives, children and grandchildren. They served as a model for generations to follow. 
Current ASU students are still inspired by the courage and leadership of The Circle. ASU student Amber Wolfe, who is currently pursuing a graduate degree in social work, said, "As a black student, the history of these four graduates gives me great inspiration. Within the process of completing a master's degree, many obstacles present themselves including underlying racial discrimination." 
"I often reflect on those who contributed to the process of furthering integration on the campus of Arkansas State University as motivation to keep striving," Wolfe said. 
In August 2017, Arkansas State University dedicated four dormitory halls to the families of The Circle, each hall being named after one of the four pioneering men. A ceremony was held, at which each family received a plaque, and to this day those dormitories are occupied by thousands of graduate and medical students.
Hope for the Future
As tense as the times were in the '70s, Dr. Stickland, Dr. Gaines, Mrs. Richmond and C.C. Smith all believe the world today is even more divided. They all hope that students of this generation will use their gifts and talents to make change in the world, that people will be accepted regardless of their background, and that young people will regain motivation to achieve big dreams.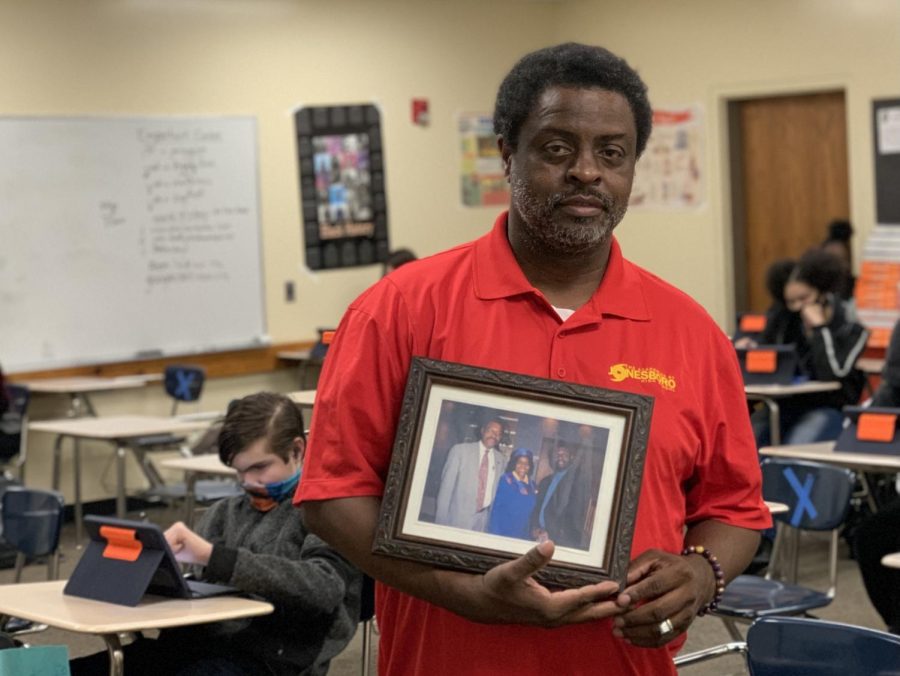 Mrs. Richmond said the key to success is personal satisfaction. 
"To thine own self be true," she said. "Be satisfied with yourself. You cannot be satisfied with other people until you are satisfied with yourself." 
Dr. Gaines, who is currently working on his memoire, wants to see students use what they've been given. 
"We've all been given gifts and talents. Use them, and your territory will be expanded," he said.
Dr. Stickland said he hopes the world will find common ground. 
"We have to develop an attitude of fairness, an attitude of going forward together, an attitude of disposition that we all grow together. If (members of The Circle) could go into a situation as tense and challenging as it was and overcome it, then you can make a difference, too."