Student band leader talks unity in pandemic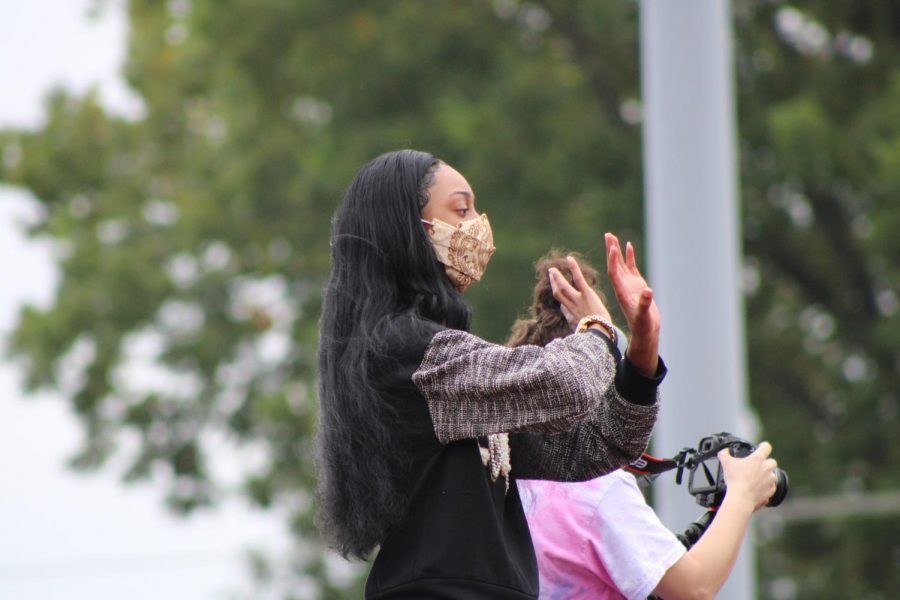 Alandria Maddox, a senior at Jonesboro High School, believes people would have a greater sense of community if they focused on their similarities instead of their differences.
"People focus more on the differences within each other, rather than the similarities, and if people would look at the similarities and try to find something in common so they can go about that instead of looking at the negatives about things, I think people would be more communal with each other."
Not many people would disagree that the world is becoming more divided than ever among the age of technology, cliques, and in recent months, a global pandemic.
According to "Greater Good Magazine" (University of California, Berkeley), Barbara Fredrickson published a study that suggests the use of smartphones may be interfering with our biological potential to connect with others. 
In addition, researchers at the University of Illinois at Chicago and the University of Texas at Austin, asked student groups to jot down the various cliques that were present at their schools, and then to try to identify the groups that existed at every school. The students named groups such as "stoners," "jocks" and "populars." The mere existence of these labels depicts how cliques divide people in schools. 
A poll by Yougov reveals that as of July 8 slightly more than half (54 percent) of U.S. adults agree that the crisis of COVID-19 has divided the United States.
As students have returned to school, whether in-person or online, they are isolated. 
Schools across the world have enforced social distancing and the wearing of masks, changing the development of friendships and socialization with students. If students participate in school virtually, they likely have little to no interaction with their peers. 
Maddox interacts with her peers in her everyday life. She enjoys dancing and helping others in her community and has been a drum major for two years. She says conducting, though not as easy as it looks, helps her express herself without words. In addition to leading the school band, she plays four types of clarinets in the band. 
Maddox takes pride in her role as a drum major as a black female, and she feels that she does not see many black females conducting. Through her role, she hopes to inspire other black females to feel empowered.
"Those in leadership roles, I would say, would be typically the same people," 
Maddox said. "I would hope that others who look like me, or any other minorities, would inspire to be in the same position as I am, because they can do the same thing. … Our band directors love diversity … and it helps band students get different perspectives on life and situations that they've had."
Music offers kids and adults alike a chance to let go and to express themselves, with or without words. Despite language, ethnicity, gender, age, income or education level, music is something that when experienced, is instantly recognizable. The simple acts of making sounds, enjoying self-expression and responding to a rhythm can have the potential to bind humanity and to serve as a universal commonality. 
Pandemic or not, Maddox aspires to maintain unity in her school through her leadership role in the band.